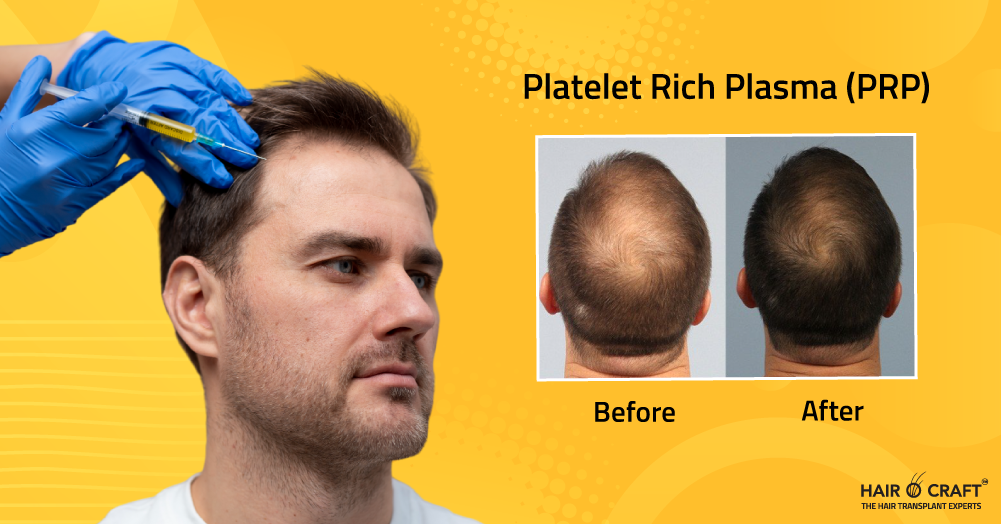 Cosmetic procedures-be it hair or skin or even dental -are often viewed with a certain hesitation and even fear. The team at Hair O Craft understands this and is always eager to have detailed conversations with the clients, explaining the procedures, the pre care, the post care, side effects and so on. How many of you have heard about PRP treatment? PRP or Platelet Rich Plasma is a non-surgical procedure to stimulate hair growth. Sounds simple! And yes, safe too.
To break down the procedure, here's what it is in a nutshell. It is the process of using healthy platelets from a person's blood and injecting it to the scalp to give added nourishment that will aid hair growth. Now that might trigger a little anxiety in some. But it's a very simple process that is carefully carried out by a doctor or professional. Once the preliminary consultation is done,  blood is drawn from the patient. This blood is then treated to filter out and gather the enriched cells or platelets. This PRP or highly concentrated platelet rich plasma contains essential growth proteins. This is injected into the scalp and this can aid hair growth.
While this treatment can be done by itself, it is mostly done in combination with other hair treatments like hair transplant. It is ideal for people who have started experiencing hair thinning or hair fall. This can be done by all genders. People need to be aware of the fact that PRP is not a process that guarantees results unlike hair transplant or fixing. Over time patients do respond to PRPand often there is visible improvement in hair growth. But this can vary from person to person.
One crucial aspect is that people who have compromised platelets should not undergo this treatment. This includes people with chronic liver or skin infections, cancer, drug abuse and so on. Hence it is important that a patient shares their complete medical and lifestyle history with the professionals. At all our HOC centres, we ensure that there is a long, detailed study of the client's medical history, lifestyle habits and so on. Today, Hair O Craft has a presence across many cities and so if you need to know more about PRP, kindly visit your nearest Hair O Craft outlet or call us at 𝟗𝟏 𝟒𝟑 𝟒𝟑 𝟒𝟑 𝟎𝟎.