An accurate and natural looking hairline is an important part of Hair Transplant Surgery that decides its effectiveness. Basically, a surgeon needs to take into consideration a few things when he is designing a hairline. Let`s have a look into it.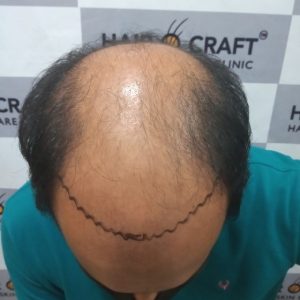 Age
The most important factor when designing a hairline is the age.  Most of the patients who visit the Hair Transplant clinics are in the 20 to 40 age bracket. Designing a hairline for a person of 40 with a hairline that suits a person of 20 might not be a great idea. It will give an artificial look.
Sex
Normally, the people who visit Hair Transplant clinics are males. Unlike in the past, ladies have also started coming to clinics for Hair transplant. A hairline of ` M `shape is normally given to males.  Designing Fronto-Temporal angle is an important part of it. This is little bit tough. But, an expert doctor can do this.
Hair features
Density of hair may be varied in people. It may be thick or thin.  When a doctor is doing Hair Transplant, he has to look into hair features because the number of grafts needed are dependent on it. There will be single, double or triple grafts. Generally, thin, single grafts are used for Hairline. Multiple grafts are implanted in area just after that.  It gives density on the frontal area. A micro irregularity also is given on the hairline to get a natural look.
Grade of baldness
Important factor here is that we have to know the degree of baldness. Then only, the no of grafts to cover the baldness have to be decided. For Ex, If it is a Grade 3 baldness to be transplanted, we have to cover the front area that is area 2 with full density. About 3000 grafts would be needed for this. But, it depends on the quality of donor area. Whereas, if it is a grade 7 case, we have to raise the hairline little bit higher to give a good coverage.
Facial features
Everybody knows that faces of people are different in shape and features. They are seen in round, oval or `V`shape. Hair line and features of face have to be synchronized. Symmetry of face is another factor. Exact symmetry on the left and right side is not needed. Then, the hairs will grow in one line. Hairline depends on Skull bones also.
In a nutshell, when we design a hairline, it has to be customized depending on the faces. The scientific and aesthetic aspects of hairline designing have to be combined to get a good Hair Transplant result.