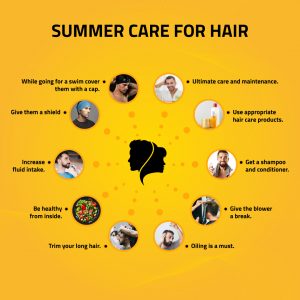 Just as extremes of summer have a harsh impact on your body, it can adversely impact your hair too. People spending long hours outdoors are more prone to get their hair damaged due to extensive heat, leading to a situation called Fried Hair.
Not only the temperature, but the subsequent UV exposure, dirt, pollution, and sweat promise a damaging effect on the hair and scalp and can degrade the natural quality of your hair. We tend to wash our hair at short intervals to avoid sweat and dirt accumulation which reduces hair strength and increases hair fall. In addition, not using the right hair care products for the season further worsens hair quality.
There are many simple but promising ways of maintaining healthy hair despite the scorching heat:
Trim your long hair:
As soon as summer enters, you must get your hair trimmed. This will not only help you get rid of split ends but will also allow the new ends to seep in nutrition. Moreover rough, frizzy ends are parched and they tend to take more humidity from the atmosphere, resulting in severe damage.
Give them a shield:
Using a scarf while coming out in the sun is the best way to prevent any damaging effects of the scorching heat. Just like sunscreen, apply a good hair care product that has UV filters in it. There are several products available in the market in various forms including spray, gel, or cream formulas that protect your hair from sun damage.
Use appropriate hair care products:
Products that ensure replenishing, hydrating, and moisturizing the hair and scalp should be preferred over those that guarantee bouncy or voluminous hair. Use hair serums and lotions to thicken the hair shaft and improve the quality of damaged hair.
Get a moisturizing shampoo and conditioner:
Owing to the heat, your locks tend to lose natural moisture. Moreover, with the increase in the rate of hair wash in summer to get rid of the excess oil produced by the scalp, to keep your hair and scalp clean and fresh to avoid any sweat accumulation as that may cause itchy and flaky scalp, and uncontrolled hair fall, there are lies an increased possibility of your hair becoming dry and fizzy. Using a moisturizing shampoo and conditioner is essential in retaining the natural quality of your hair.
Give the blower a break:
Hair dryers and flat irons are a blessing in our regular life, given the wide variety of styling options it enables us with. However, their usage in summer is better reduced to prevent inflicting damage to the natural texture of the hair.
Oiling is a must:
Frizzy hair is clearly a result of the lack of nutrition in your scalp. Massaging your hair with oil once or twice a week is sure to reap great results in terms of enhancing its texture and strength.
While going for a swim: Chemicals like chlorine and salt may strip off the natural moisture from hair strands. It is advisable to cover them with a cap.
Take extra care of treated hair: They require ultimate care and maintenance. Use specific products meant for your particular category of treatment. Cover your head while going out and avoid overexposure to sunlight to minimize the damaging effects of blazing sun.
Increase fluid intake: Water helps in maintaining equilibrium in the body, especially during summers when it is being constantly lost in the form of sweat. Replenishing the body with an adequate water intake counterbalances any damage.
Be healthy from inside: The most important way to keep hair healthy is to supply them with essential nutrients, either through a balanced diet or by taking nutritional supplements.
It's by being mindful about these simple practices that you can keep summer-induced hair problems at bay. However, if you encounter severe hair complications, it's advisable to consult a professional dermatologist to seek a customized solution.