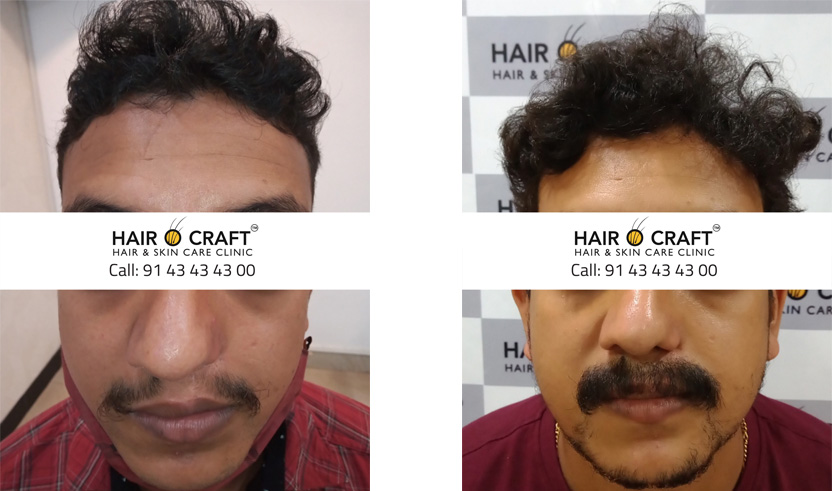 Mustache hair plays an important role when it comes to Men`s face. Having a thick mustache is every man`s dream which is considered to be a symbol of masculinity & an attractive factor. Less dense and patchy mustache hairline affects his self esteem. Genetic disorder, surgical scars, injuries, burns etc are some of the reasons for this. But, disorder like cleft lip can also cause patchy or irregular mustache. Men with clefts have limited or even missing mustache growth in scar areas. So, it is little bit challenging to transplant mustache in patients with cleft lips than in patients without this problem. However, we can give a functional & aesthetic appearance for them with Mustache transplant for better quality of life & complete social acceptance.
The main part that can play a significant role in patients with cleft lips is the Mustache Transplant. The irregular or patchy mustache in scar areas has to be made even, thick & in order. Follicular Unit Extraction (FUE) is the preferred procedure for this. This method is minimally invasive and safe which takes between three and nine hours depending on the area treated & amount of hair required. In this method, the grafts are extracted from donor area and implanted on the target area.
Moustache transplant process
The process involves the evaluation of the extent of hair loss at mustache area. Then, the surgeon makes tiny incision in the bald area. Then, the extraction of hair follicles is done from the back of the head. The transplanted hair will shed leaving the roots inside which initiates the hair growth naturally after a month
Benefits of Moustache Transplant after Cleft lips repair
Increases the self-esteem
Better aesthetic appearance
Helps to achieve natural, thick facial hair
Enhances natural line of the mustache hair growth
Post-Operative care of Mustache transplant
Avoid frequent wash at the transplanted area.
Keep your face dry with moisture
Avoid shaving & trimming for a few months
Avoid direct sun exposure
Mustache transplant for cleft lip – a case study at Hair O Craft, Kozhikkode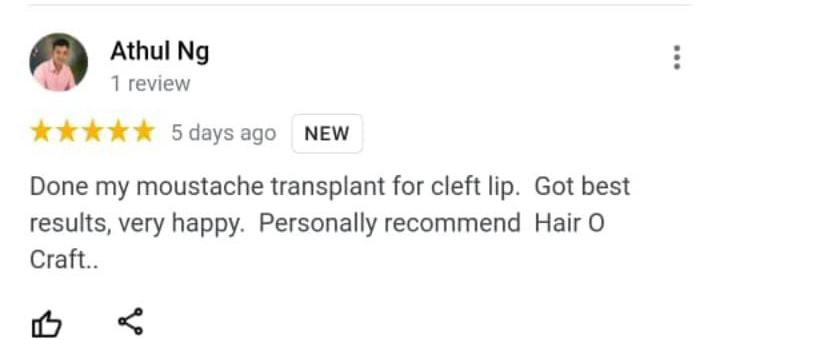 Cleft lip and irregular, patchy mustache are something that worries some. It dents their confidence level. However, it can be solved by mustache transplant that can give a fresh look on their face.