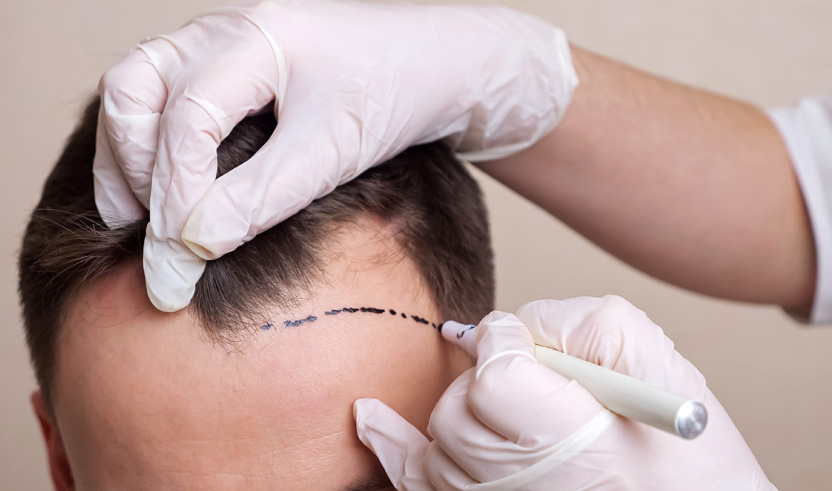 The hairline is the most important part of your hairstyle. It can make or break one's look. A sharp, well-defined hairline creates an impression of youthfulness and structure. And that's why hairline design is the most important step in hair transplant. The remaining steps depend on it. The position, symmetry, density and shape of the hairline should be perfect to preserve the natural look of the patient.
There are many factors to consider when designing a hairline. Although patient choice is one of the most important factors in determining a suitable hairline design, some patients who do not understand principles of natural hairline designs request too low hairlines. A too high or too low hairline will make the head look off. Age, Gender, Race, Type and Degree of hair loss, Size and Shape of the face, and Donor area density are a few factors that influence the appearance of hairline design.
Age of patient – hairline should be designed according to the age as it looks more natural. For example, if a 50-year-old patient with an advanced level of hair loss wants to gain the hairline like when he was 25, it will look unnatural.
Gender – A male hairline is different from a female
Type and Degree of hair loss – In order to create a seamless hairline, it's important that surgeons consider the cause and design accordingly.
Size and Shape of the face – Appearance of hairline varies according to patient's face size and shape. A surgeon will design hairline on the basis of the patient's face.
The hairline should not be a straight line. The natural version of this part has peaks and valleys. So the new design for a hairline will also feature waves instead of being completely flat.
For a natural looking hairline, the surgeon mostly avoids placing straight lines on your scalp. They will usually create an appearance that is more naturally styled and it reflects in their work. The smaller hairs are placed in front and the larger ones behind. This creates a natural-looking feathered look with no unnatural looking gaps between individual strands of hair. All the transplanted hair in the hairline will be blended together seamlessly by virtue of their placement on opposite sides.
There are many ways to determine the height of your hairline. One way is that it should fall approximately 3 inches above middle of your eyebrows. The central hairline can be placed even 2 fingers above the highest forehead wrinkle or 4 fingers above your eyebrows. Doctors often pay special attention to the symmetry, density and shape of hairline i for an elegant appearance.
Every person has a scalp with unique requirements. Some might be experiencing receding hairline and others may have lost their entire hair in certain spots or around the middle. An experienced doctor will design custom treatments and hairline for everyone's specific needs.
We at Hair O Craft know the importance of a good hairline and how it defines your face. Our trained professionals provide you with a detailed analysis of the way your hair is thinning and what needs to be done about it. We help you understand the course of treatment and decide what method is best for your condition.